Pathology of CDH1-related diffuse gastric cancer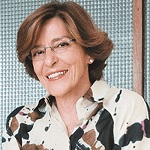 Fátima Carneiro is Professor of Pathology (Faculty of Medicine of the University of Porto), Head of the Service of Anatomic Pathology (Centro Hospitalar Universitário São João) and Senior Researcher at Ipatimup/i3S. She was nominated as "The most influential pathologist in the world" in 2018 (by "The Pathologist").
Early-stage HDGC in CDH1 mutation carriers is characterized by multiple foci of intramucosal (pT1a) signet ring cell carcinoma (SRCC) in the superficial gastric mucosa, without nodal metastases. Two precursors of pT1a SRCC are recognized: SRCC in situ (Tis) and pagetoid spread of SRCs. Advanced carcinomas display an "aggressive" morphologic phenotype composed of poorly cohesive and pleomorphic cells.
The spectrum of morphologic, immunophenotypic, and molecular alterations of early and advanced gastric cancer in HDGC will be addressed in this webinar.