Neurofibromatosis
Thematic group 1
Neurofibromatosis (NF) is a group of three conditions in which tumours grow in the nervous system. The tumours are generally non cancerous.
The three types are:
The cause is a genetic mutation in certain genes. In half of cases these are inherited from a person's parents while in the rest they occur due to spontaneous mutations. The tumours involve supporting cells in the nervous system rather than the neurons.
Thematic lead
The thematic lead for Neurofibromatosis is:
Ignacio Blanco Guillermo, Dr. Ignacio Blanco Guillermo, Hospital Germans Trias I Pujol - lnstitut Catala d'Oncologia, Barcelona in Spain.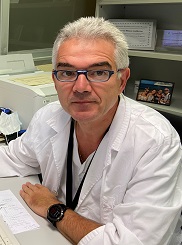 Patient representatives
Claas Röhl, chairman of the Austrian patient organisation for NF patients "NF Kinder", ERN GENTURIS Board member.